Recently, there has been a lot of debate weather or not to keep the
ban of University of Virginia's "Greek life"
after an alleged rape of a student at a Frat party was reported in Rolling Stones Magazine.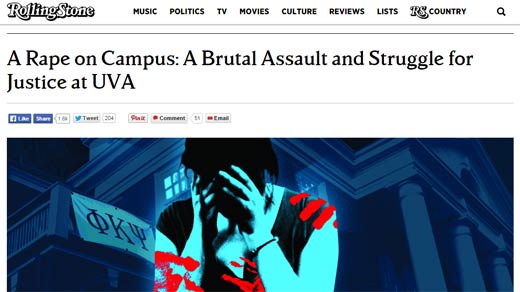 The author of the article, Sabrina Rubin Erderly, referred to the rape victim as "Jackie." "Jackie" describes three friends (referred to as) "Randall", "Andy", and "Cindy" who discouraged her from reporting the horrific rape.
The controversy started when the student who identified as "Randall" came forward and told
The Associated Press
that he:
"couldn't help but notice that everything that the article said about me was incorrect."
Erderly only relied on the account of "Jackie" to tell the story of the UVA rape. She never corroborated information and she was never able to reach the alleged attackers for commentary.
This mistake may cause more that just damage to her credibility and reputation as a writer. This might damage the credibility of future woman to step forward about their own personal rape cases. Victims of rape will be afraid to be seen as another "girl who cried wolf." The media will be afraid to cover the story, in risk of hurting their own credibility as a Magazine or a Newspaper. Regardless if "Jackie's" story is entirely true, rape is still a huge issue in the "Greek life" community (or at colleges and universities in general) and it should never be seen as a liability to a journalism business. I think Erdely made a huge mistake with not collaborating and verifying her sources before hand, because I think this may lead to even more rape cases pushed under the rug.